The following articles cover topics important to our seniors. The Front Page News is the monthly newsletter for the Senior Center.

You will need Adobe Acrobat to view--click on their icon to the right to download a free version.
Be sure to press the "back" button on your browser to return to our site after reading each article.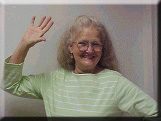 READ ABOUT OUR SPRING FASHION SHOW (PDF file)
Super Granny - Defender of Justice:
PEERS
I have been guilty of looking at others my own age and thinking...surely I cannot look that old.....
While waiting for my first appointment in the reception room of a new dentist, I noticed his certificate, which bore his full name. I remembered that a tall, handsome boy with the same name had been in my high school class some 40 years ago. Upon seeing him, however, I quickly discarded any such thought. This balding, gray-haired man with the deeply lined face was too old to have been my classmate.
After he examined my teeth, I asked him if he had attended the local high school.
"Yes," he replied.
"When did you graduate?" I asked.
He answered, "In 1957."
"Why, you were in my class!" I exclamed.
He looked at me closely and then asked, "What did you teach?"